Protocol Client Case Study: Nick
Meet Nick.
Nick is a father to 3 young boys, a husband, a Lieutenant Commander in the US Navy, and a lifelong athlete. It's safe to say that Nick has a lot on his plate.
When he found himself slipping from the standard he likes to maintain with his fitness and nutrition, instead of hoping these would eventually return, he decided to reach out for some help.
The first thing we did was address some digestive issues. With a detailed food log we quickly identified some trigger foods, and moved to a higher quality whey protein isolate.
Next we began to unpack some limiting beliefs Nick held around the all-or-nothing approach and trying to be absolutely perfect with his food quality and adherence.
"I believe I continue to do well with the lifestyle eating approach. I'm easily maintaining 85-90% whole, quality foods, and it feels good. I feel good!"
We started methodically pushing food week over week, and moved training from his 5x5 general strength style to hypertrophy-specific programming.
"I think this is the first week that I can really tell physical changes are happening. We're up over 3,000 calories training days and I continue to lose weight."
Eventually, we were up to over 400 grams of carbs 5x week on our training days, and Nick was mentally and physically ready to diet (and eat less carbs! 😆)
Because we had created so much leverage and such an optimal environment to start from, dieting was a breeze.
"Hit a random new low in weight last week (187.9). I feel good, I feel lean, I feel strong."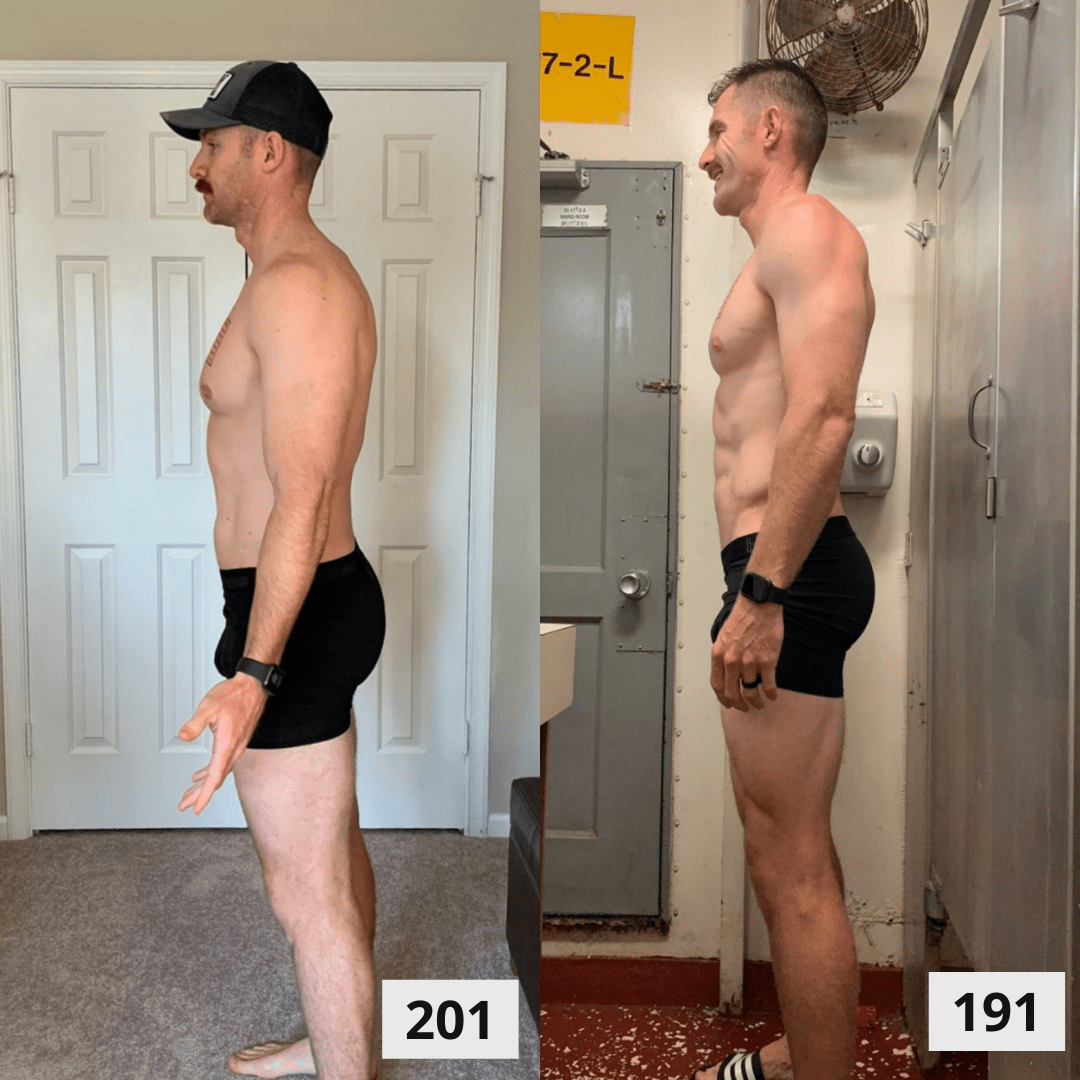 Then we started the reverse dieting process to return Nick to a level of maintenance calories while keeping all of the incredible fat loss we had.
"I'm digging eating up again! Not that I was ever overly hungry, but it's nice to be able to take the things we learned and apply them to making sure I'm fed to support muscle gain."

"By the end of this week I was feeling really good physically and mentally. I enjoyed my progress pics this week."
Nick and I are wrapping our final week of the Protocol with him eating an appropriate, satiating volume of food, while Nick is slowly adding back more muscle to his lean, muscular frame.
More importantly, Nick realized that he doesn't have to be perfect to maintain his impressive physique, and he's found his own personal balance with the priorities in his life.
Reach out to see if we are a good fit for turning you into the "Nick" of the next class of the Metabolic Performance Protocol.