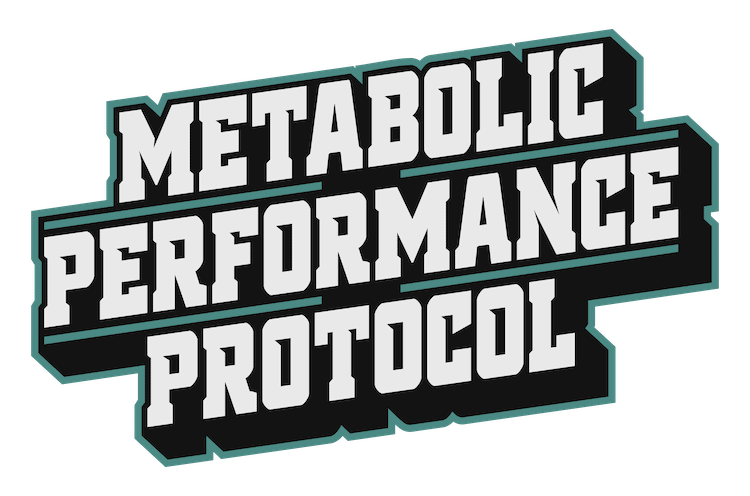 With my help and periodization you will be able to create a lean physique without sacrificing hard-earned muscle mass or strength, AND while eating a considerably large amount of food.
I'm teaching you and coaching you every step of the way  through the exact same habits and principles I use. Our goal is to empower you with the education and knowledge so you can confidently stand on your own two feet. You never have to worry about what to do with nutrition again.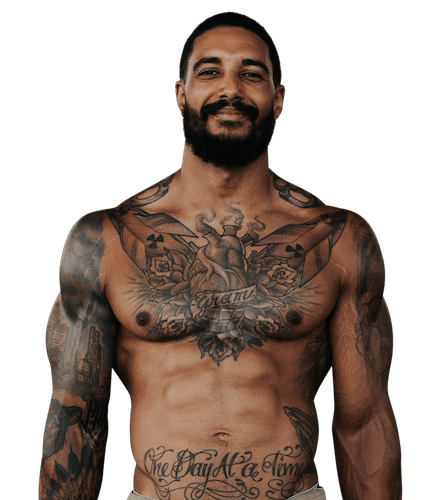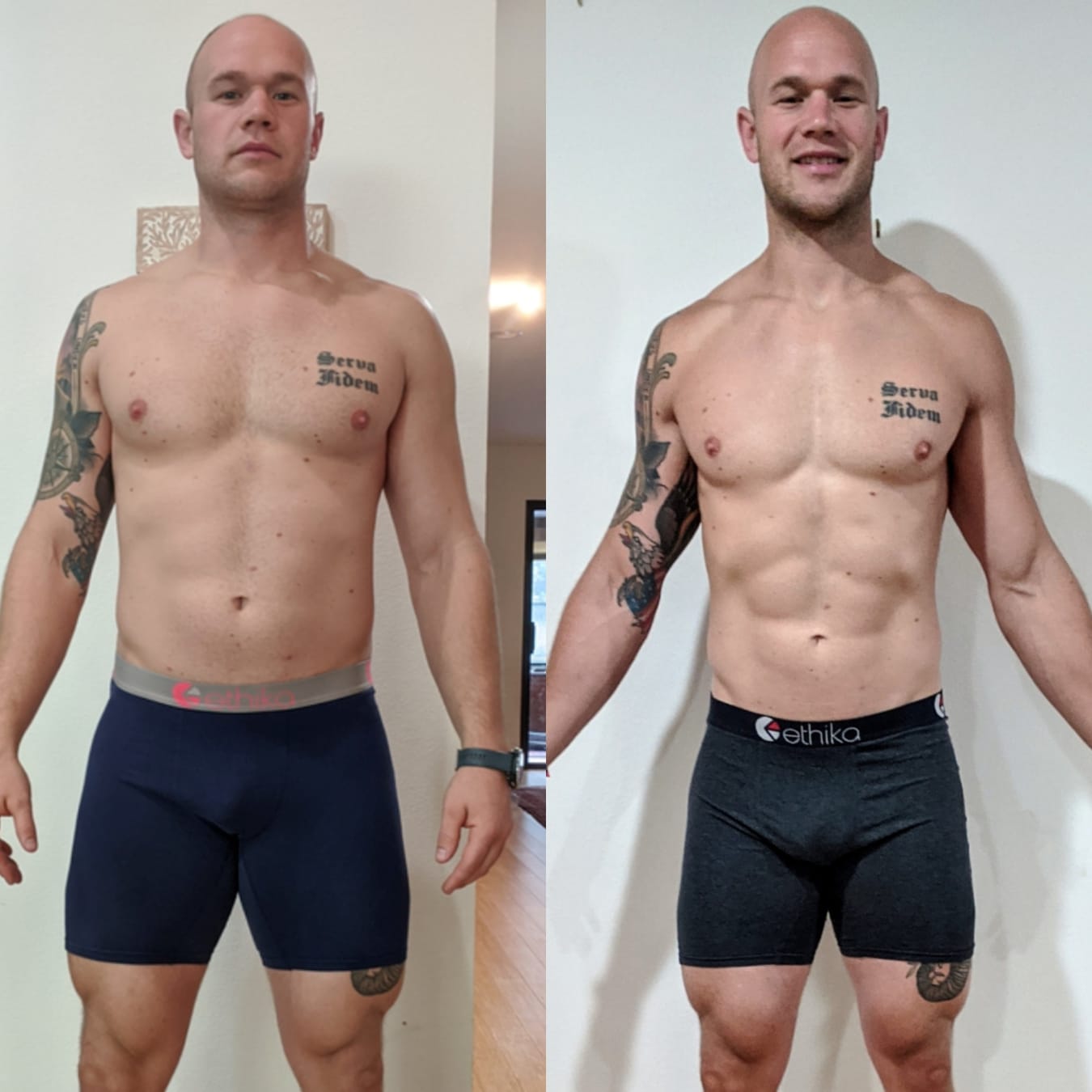 MIKE
"This has been a game changer in my health and wellness. Aaron has helped me align my nutrition to provide better results from my training and lifestyle. My favorite aspects of his nutrition program are the simplicity of managing food, weekly educational videos, near immediate responses to questions, and Aaron's wealth and breadth of knowledge of nutrition and strength training."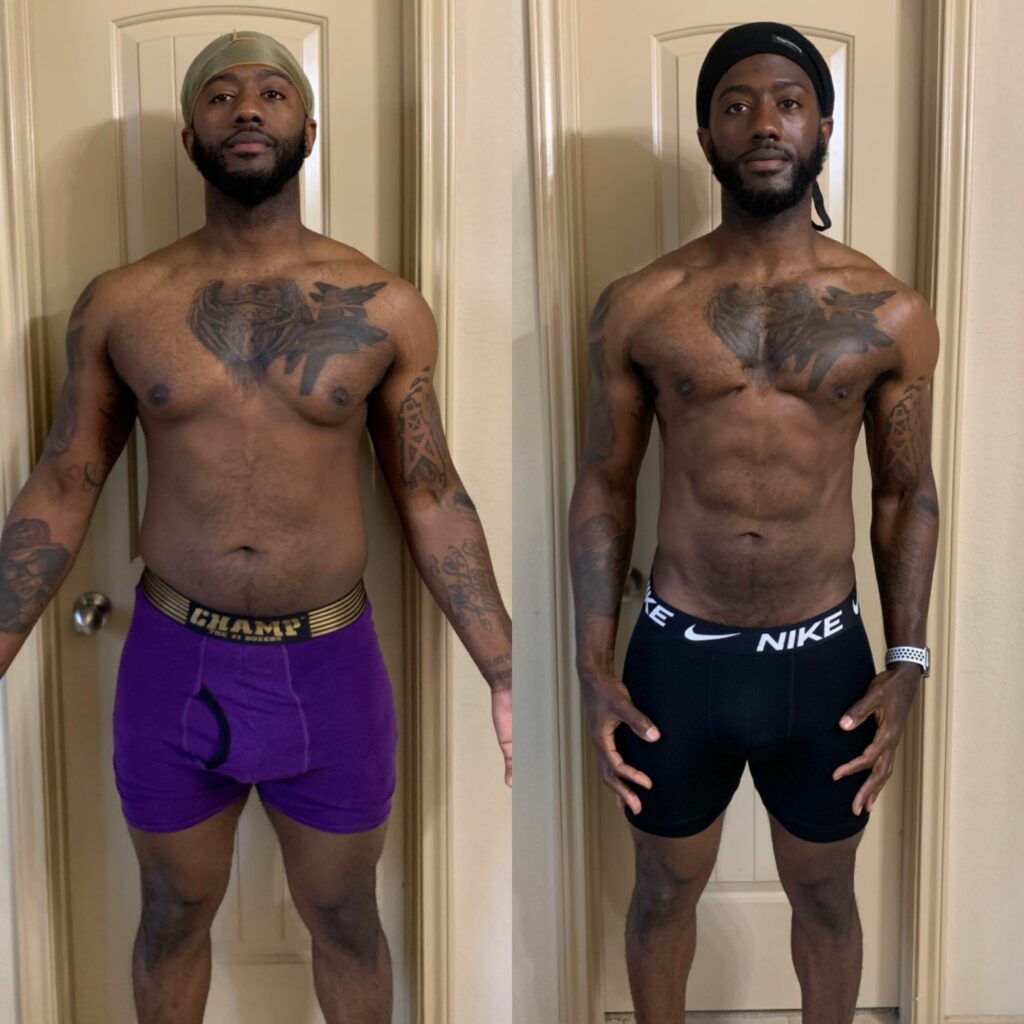 JASPER
"I've learned more than what I thought I would from Aaron's program. My skills are definitely sharpened. They way Aaron kept it simple made nutrition make more sense than any course I've taken. I now know what is needed to be done behind closed doors to make sure my physique is top of the line. I can take this information and share it with others."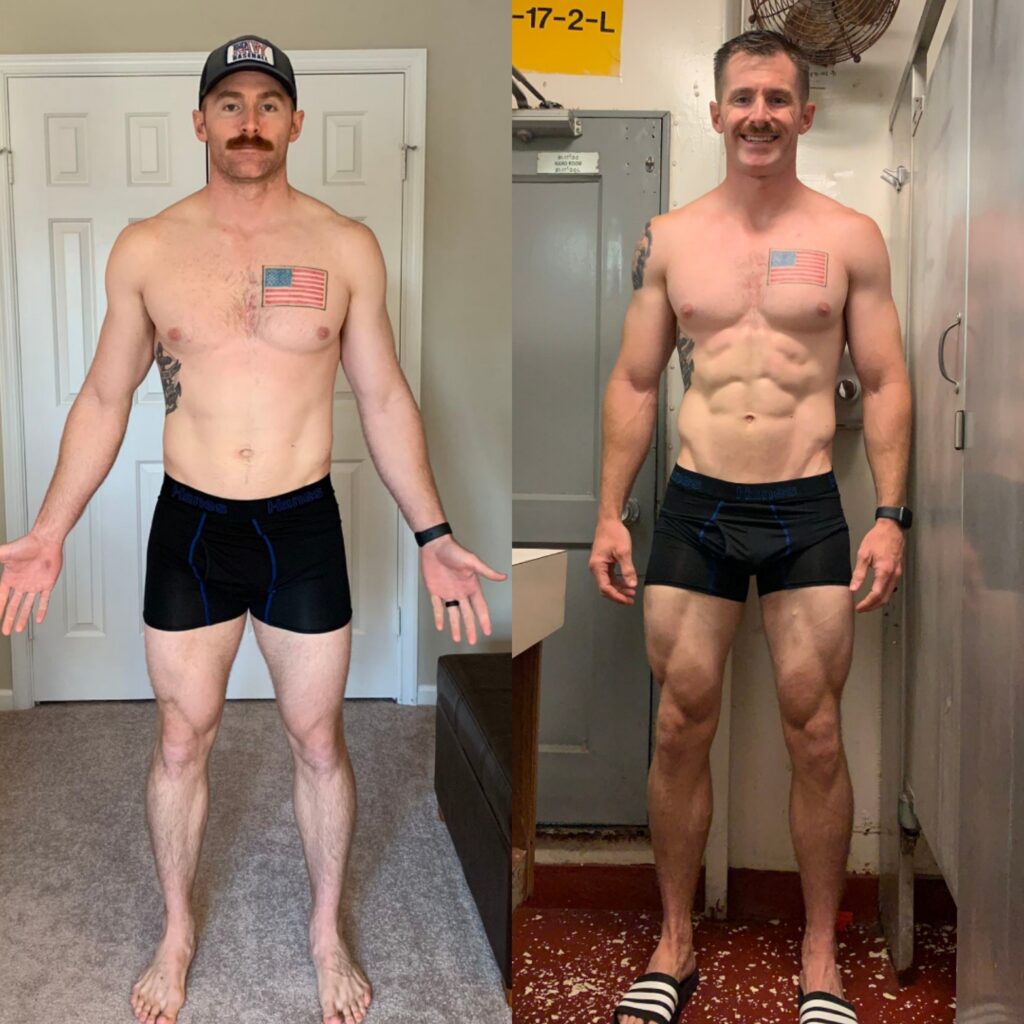 NICK
"Aaron practices what he preaches, and that's extremely beneficial when you're navigating the Protocol. He not only has the knowledge to guide you as an individual, but he's got the life experiences to back up his book knowledge. I got everything I wanted AND MORE out of the Protocol. The level of dedication from Aaron for 22 weeks is a game changer! Highly Recommend!"
The Metabolic Performance Protocol is a 24 week Nutrition Coaching, Resistance Training, and Education Program for men who are ready to improve their physique, performance, and their health.
We focus on building lean muscle and then dropping body fat while also improving stress, getting better sleep, and effectively making your nutrition work for you.
We use a specific macronutrient based approach for quantifying dietary intake customized specifically to you. We fill the majority of your diet with high-quality, nutrient-dense, whole food sources. That being said, no foods are "off limits" and almost anything can be incorporated within moderation.
There are periods of higher intake and periods of lower intake, but this far from just another "diet", this is a commitment to yourself, your goals, understanding the process and building the habits required to successfully execute on those goals.
There's much more to objective nutrition than simply dieting and calorie deficits. That's why the Protocol contains four nutrition periodization phases. Strategically implemented in this sequence to maximize the results of your efforts, and to place you back in a perfect position once you finish. Each phase is provides a specific role in the grand scheme or optimizing how your metabolism performs.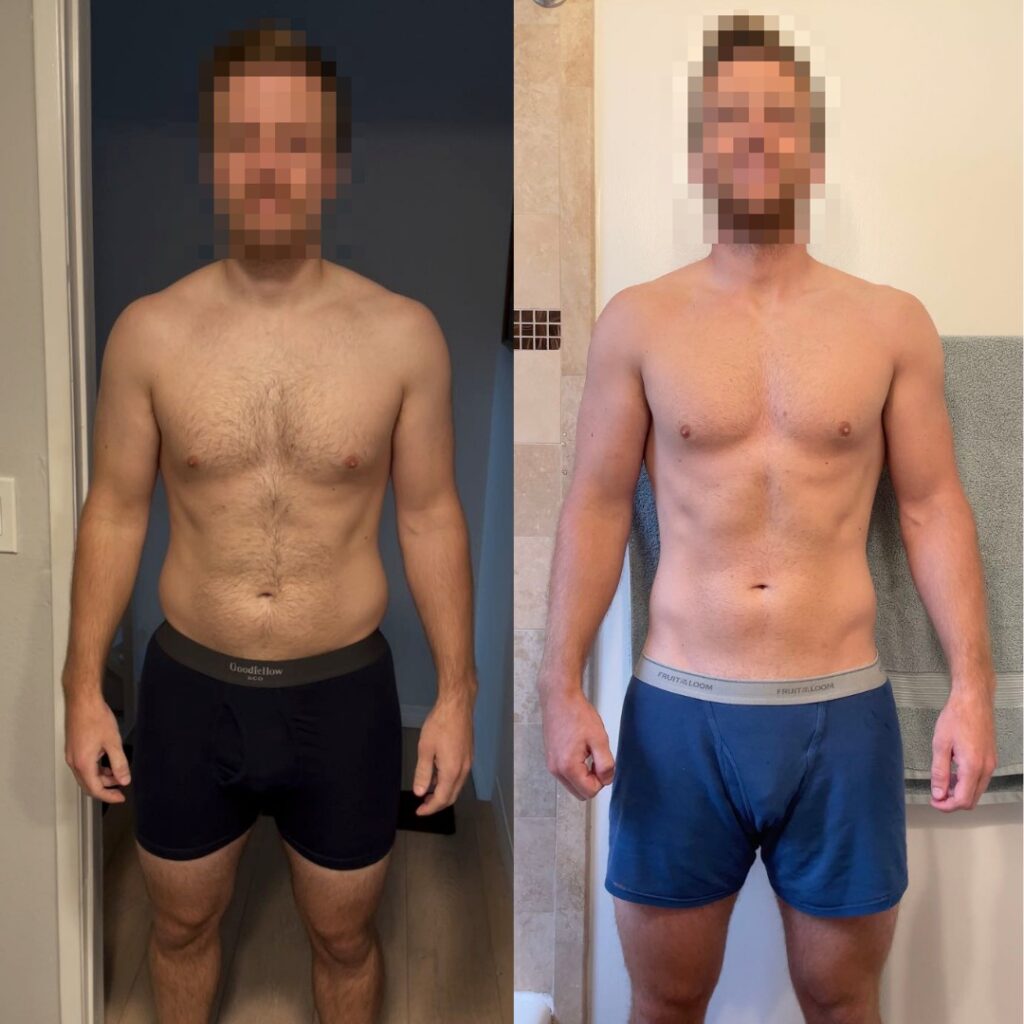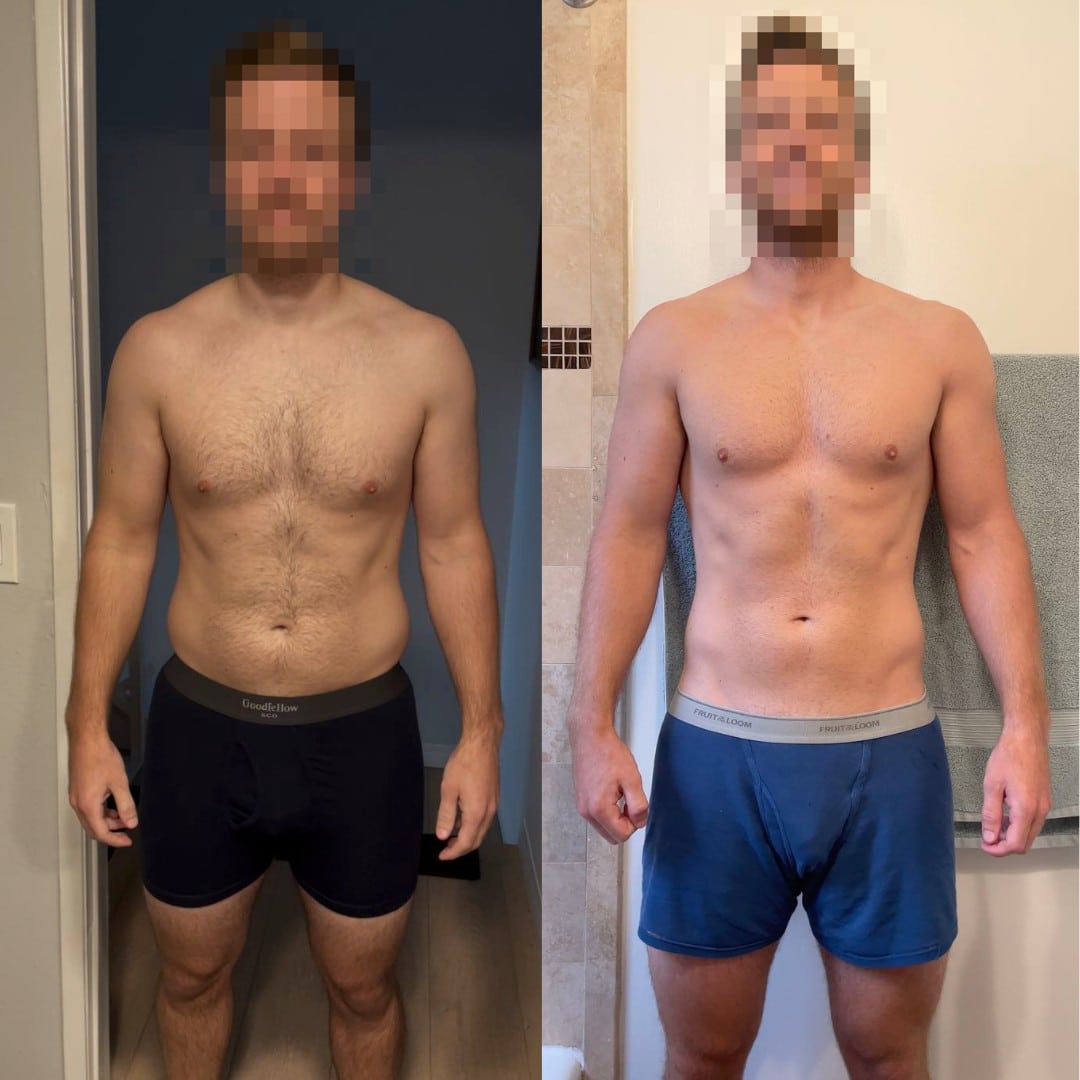 MARC
"Aaron's program provided me the tools, knowledge, and guidance that led me to becoming the healthiest that I've been in the last 5+ years. The pace of the program and accessibility on a weekly basis was perfect to keep me on track and help me get settled into a structure that I can follow for life. "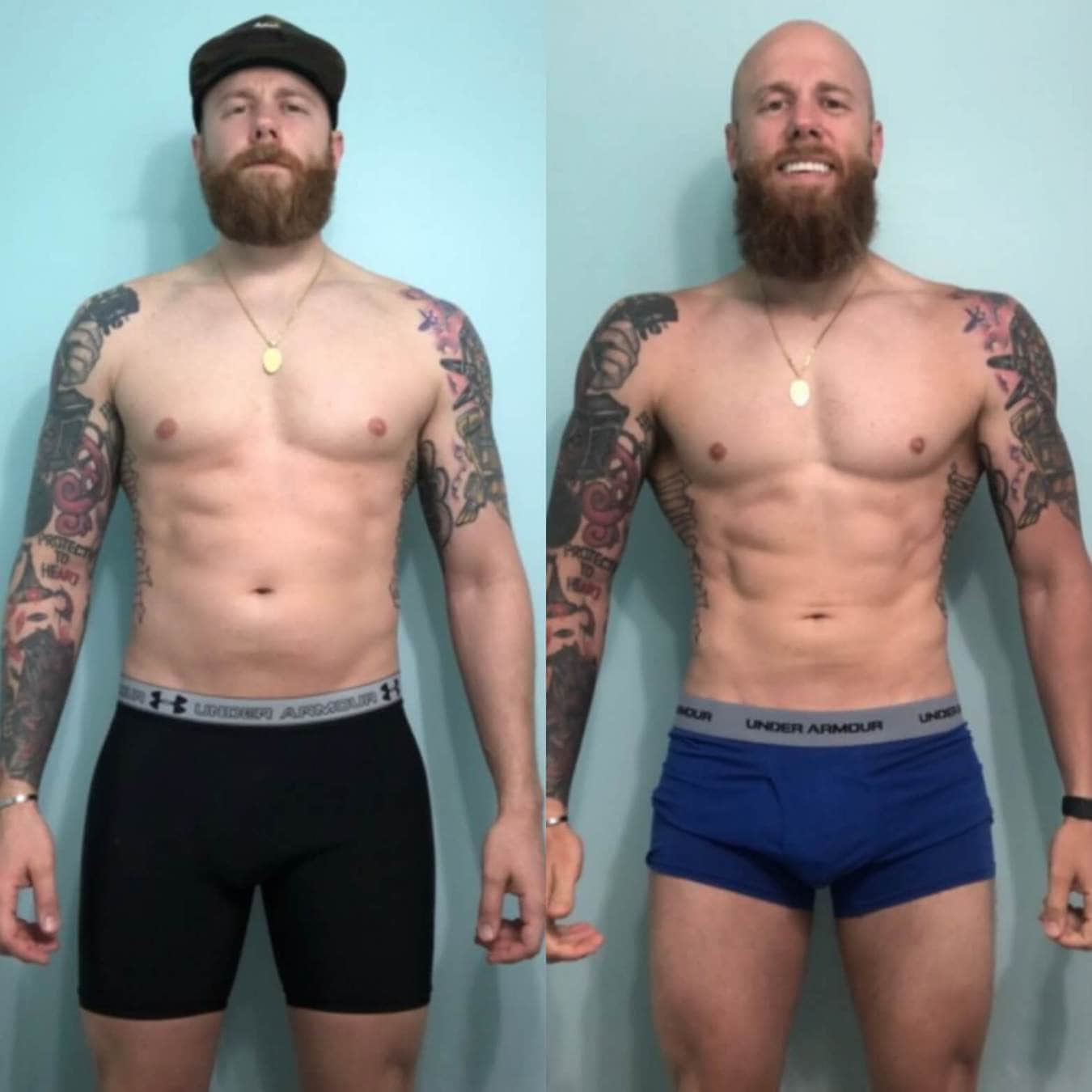 PAUL
"When first tracking my food I was stressing out...for no reason.  Nutrition is not as overwhelming as I thought it would be. There's a lot to it, but you have a good teacher and if you follow the protocol, it becomes second nature. I now can enjoy life and food while still achieving the results I desire."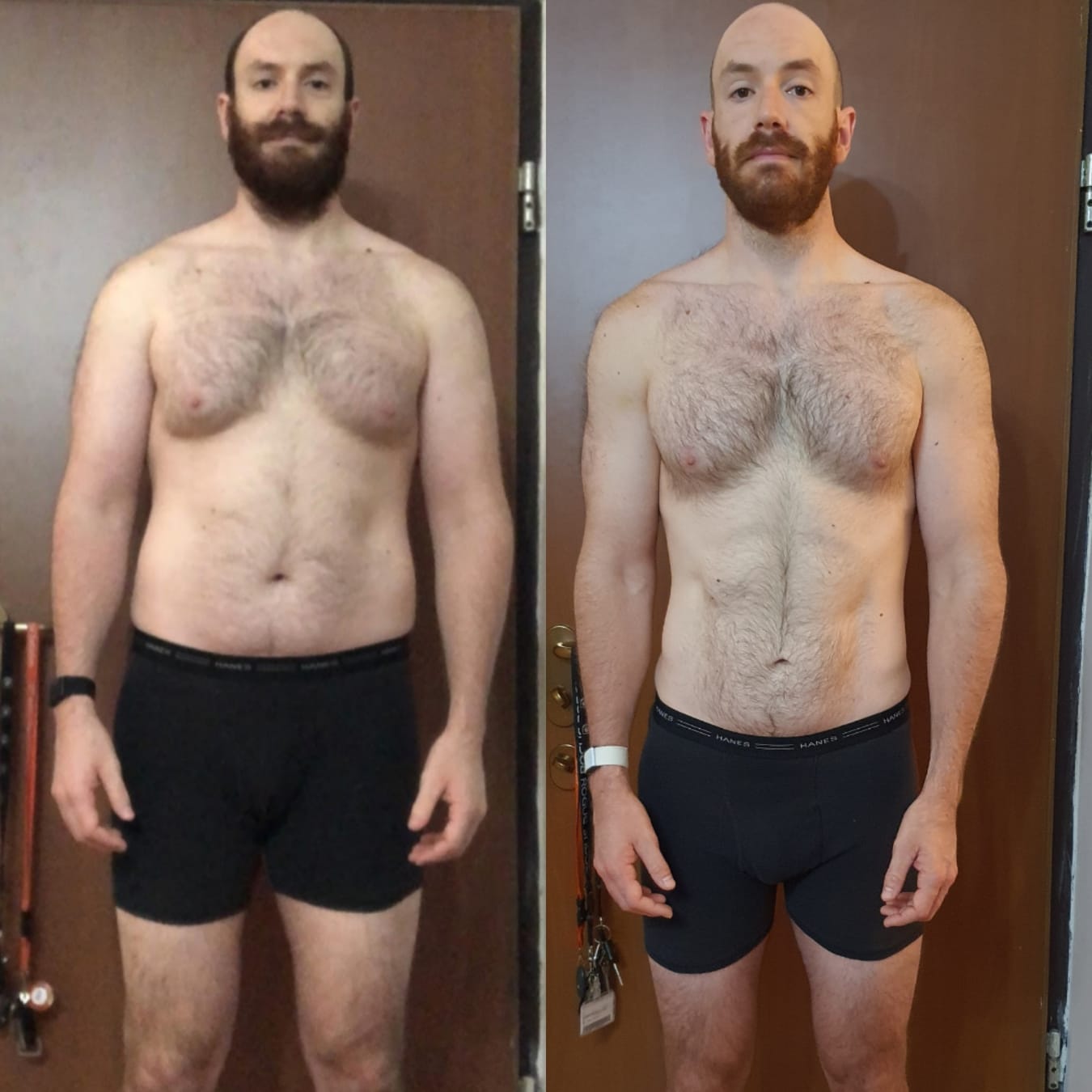 BRIG
"Aaron has taught me so much about nutrition. I know and understand more about how to control my nutrition and overall health. I'm a happy dude with all the confidence to continue on my own."
Education Makes the Difference
The foundation of this is on you learning and understanding the basic principle behind the habits and practices that consistently produce results. This is why there's over 50 educational videos included in the Protocol, in addition to the weekly live semi-private calls we have.
ERIC
"I feel and look the best I have in recent memory and that is entirely thanks to you. I can't believe the transformation I have made both physically and mentally. You have changed my relationship with food so I don't rely on it for comfort, but utilize it to make me feel better internally. I am a completely different person inside and out and I can't thank you enough."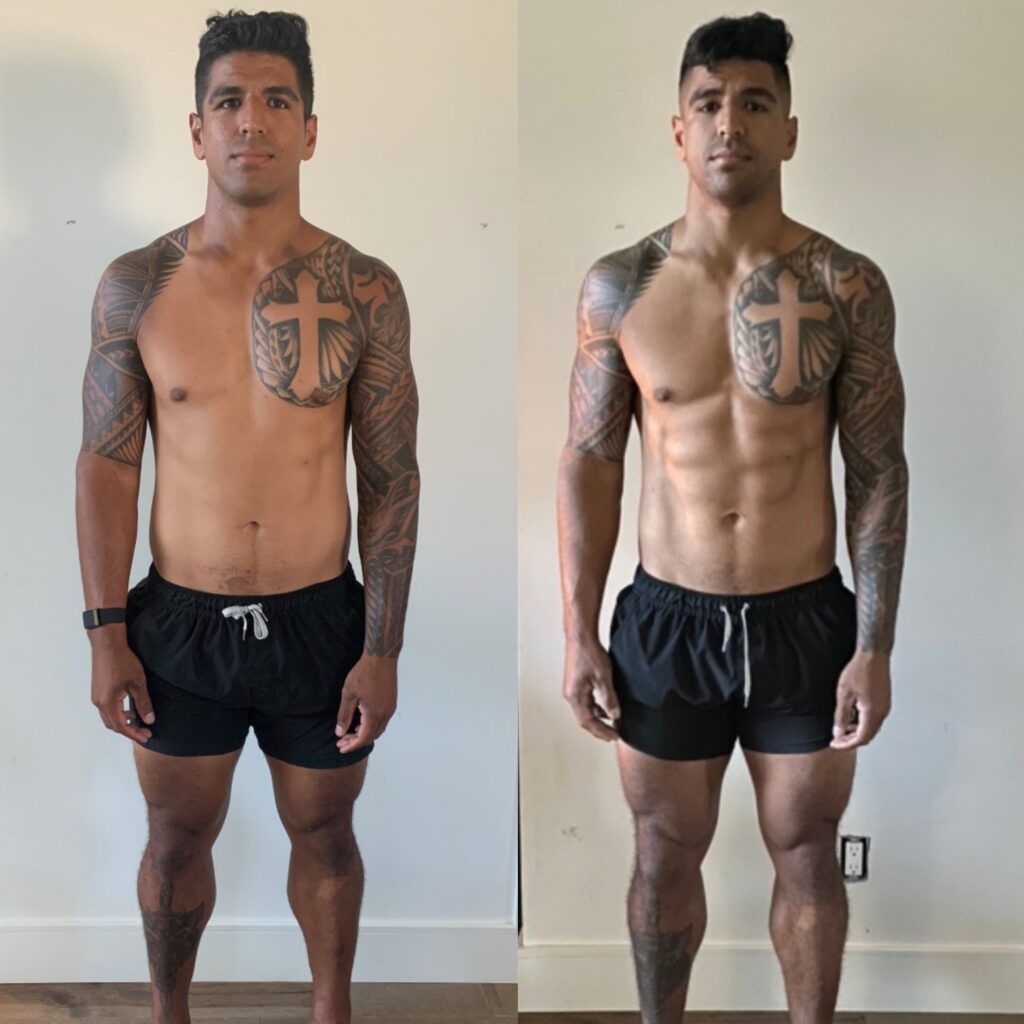 WESLEY
"The MPP was a great experience that exceeded my expectations. I initially joined the MPP with the intention of leaning out and losing some weight in a way that would not tank my athletic performance. Aaron provided all tools I needed to be successful with my goals. Aaron was easy to work with, accessible and helpful. You can tell that he is loves what he does. He is definitely a nerd about all things nutrition. It's motivating to work with someone who loves what they do. "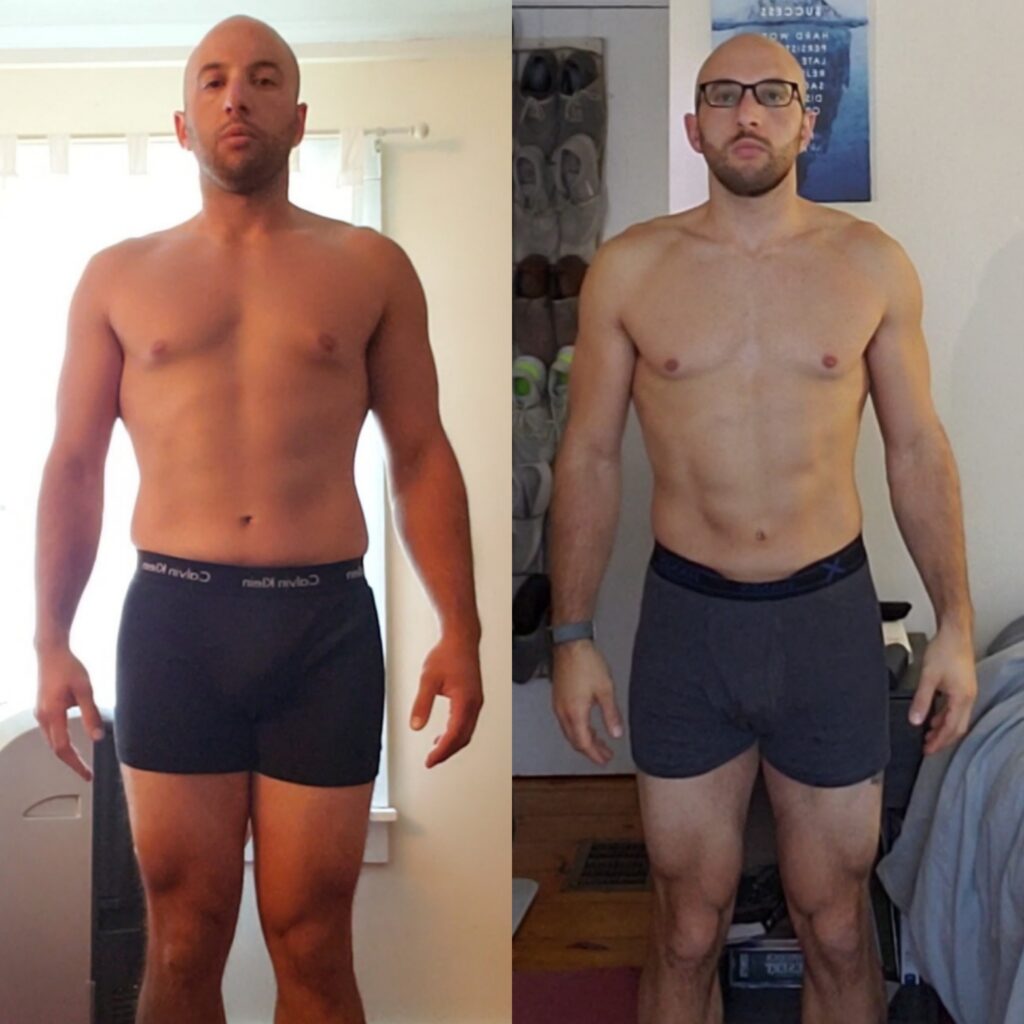 DINO
"Aaron's program did a phenomenal job of not only producing great results, but it also provided a framework and education for me to make informed decisions after the program concluded. It helped me reach goals I never thought I would be able to achieve all while feeling great and maintaining lifestyle flexibility. Worth every penny!"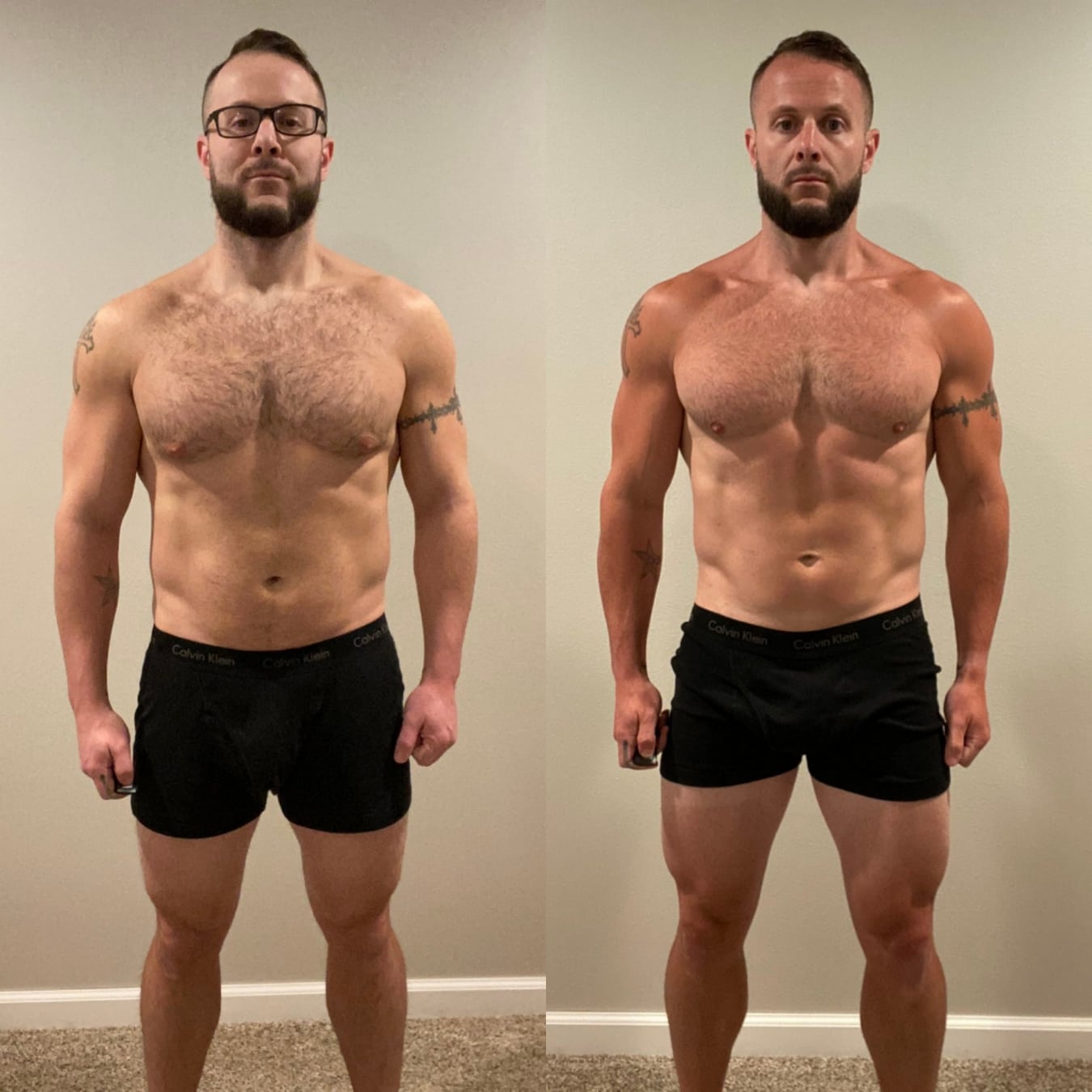 SCOTTY
"Coming into the program, nutrition was my Achilles Heel and Aaron helped gamify the work in the kitchen paired with training to get me past my previous plateaus I couldn't break in years. I started the program at ~208 lbs and at the end, my lowest was 185.6 lbs! I'm seeing my abs show for the first time ever and more importantly, feel comfortable with my shirt off for the first time ever as well."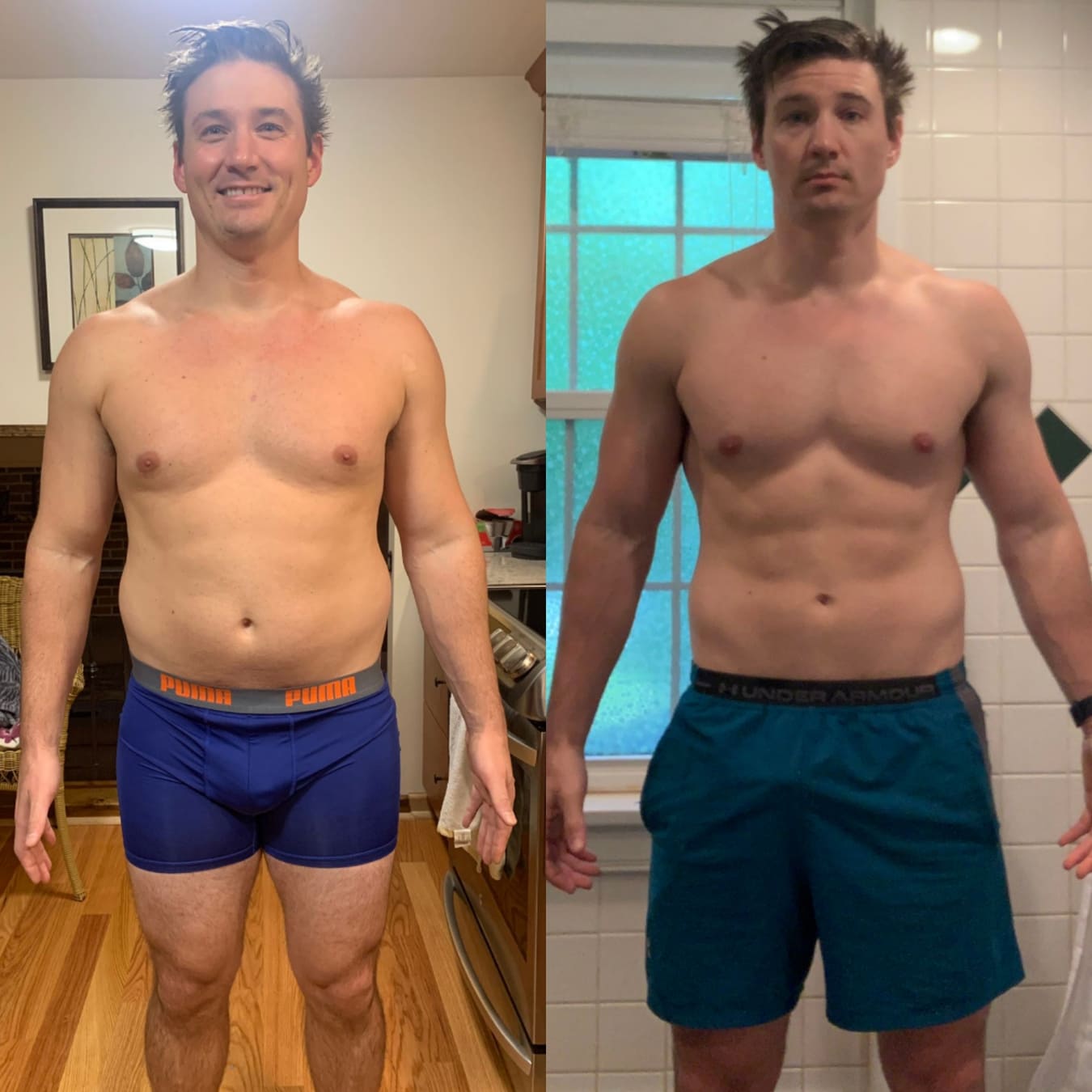 GREG
"Aaron's program is more than weight loss, it's a way to develop the habits and knowledge to put you in complete control of your body composition. My mindset around food has shifted and I'm so much more in tune with how what I consume impacts my day to day life."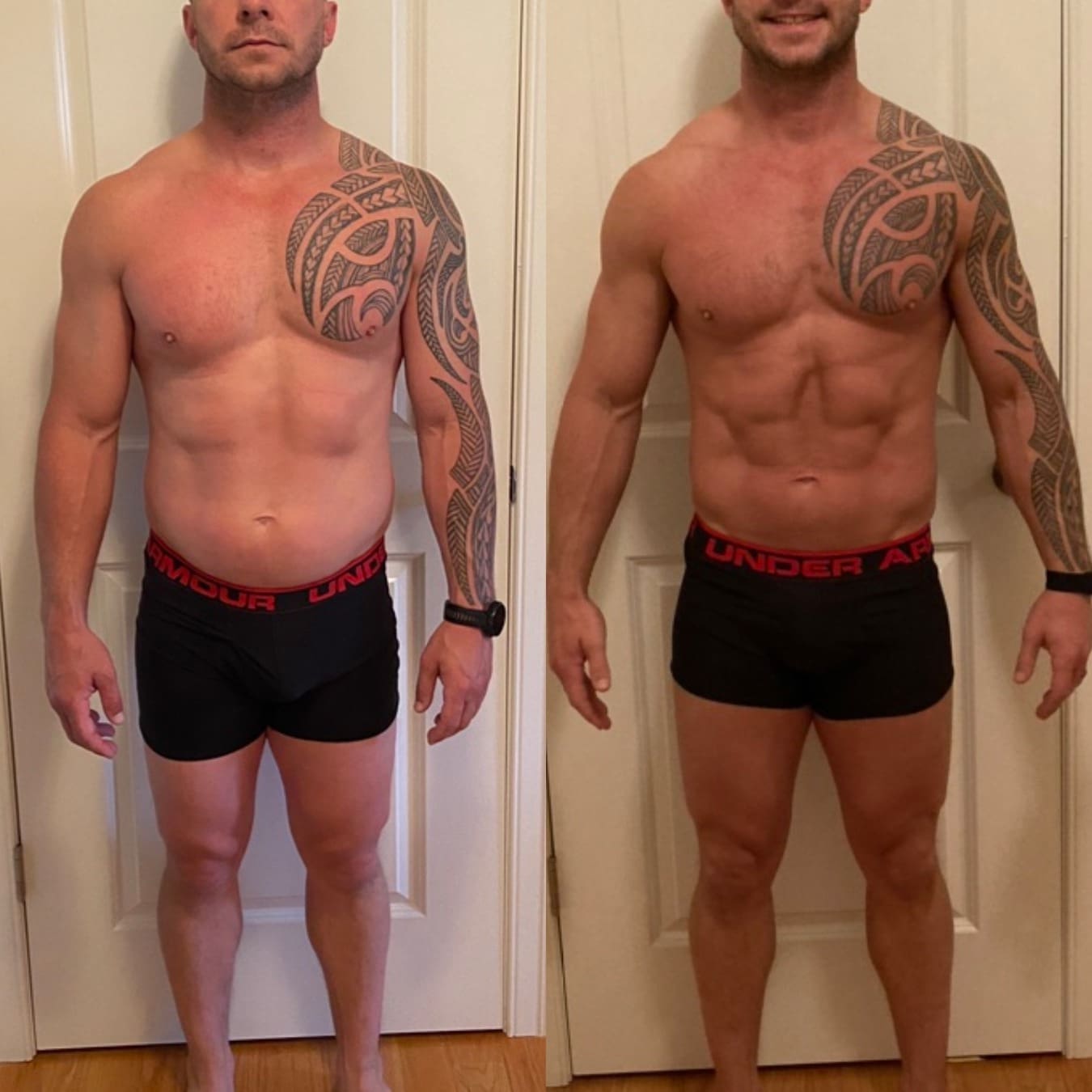 JEREMY
"Aaron's knowledge and level of care towards his clients is mind blowing. I have always considered myself knowledgeable about living a healthy lifestyle but now I realize I was doing so many things wrong. I'm eating way more than I ever have and I'm as lean as ever. Finally I'm feeding my muscles the volume they need to be to reach optimal performance and a much better physical appearance."
Custom Nutrition Targets
Custom macronutrient targets hand-built specific for you by me. Protein, carbohydrate, fat, fiber, nutrient partitioning and more. Updated weekly, bi-weekly, or as needed.
1:1 Weekly Check-Ins & Updates
Check-ins are due weekly, and they're required. Routine check-ins provide accountability and we measure and monitor both subjective and objective metrics that we use to assess progression and plot trends on.
Weekly Live Semi-Private Coaching Calls
Every week we hold a live semi-private coaching call to review check-in questions, recap new topics, and hold an open Q&A session to ensure you have the information, tools, and answers you need to crush the upcoming week.
Private Coaching Software
Progress photos, nutrition targets, completing check-ins, getting updates, and all education topic videos delivered via coaching software (mobile + web.) Notifications when deliverables and check-ins are due to keep you in check.
Access to 50+ Education Videos
Brain gains are on deck. There is over 50 private video topics specific to the periodization phases and over 100 pages of documents outlining scenarios and how to best approach and handle each.
Private Facebook Community
Private Facebook Community only for other Metabolic Performance Protocol members. Ask general questions, post your go-to meals, Sunday meal preps, gym PRs, and other wins with the community.
Exclusive Food Tracking Presentation
Tracking food and macros can be the wild west. That's why I put together a robust, incredibly in depth presentation for exactly how to track like the pros do.
100+ Pages of Client Documents
In addition to the live weekly coaching, and private education videos there are multiple PDF documents on how to best approach common scenarios like holidays, gas station meals, and lazy preps.
ALL the Support You Need to Succeed
I am here to support you throughout the Protocol with questions, issues, food suggestions, supplement recommendations and any other support you need. I am invested in your success just as much as you are.
CONSISTENTLY PRODUCING RESULTS
I provide to you the structure to be successful within while you retain the freedom of day-to-day specific food selection.
This framework allows the guys who join the Metabolic Performance Protocol to successfully produce results, group after group after group.
IS THE PROTOCOL RIGHT FOR ME?
The Metabolic Performance Protocol is for dedicated males ready and willing to plan, be consistent and practice the habits necessary to be effective.
To make the most out of this Protocol we set high standards for each other. High standards raise the bar for level of effort and commitment, which results in taking bigger action and producing better results.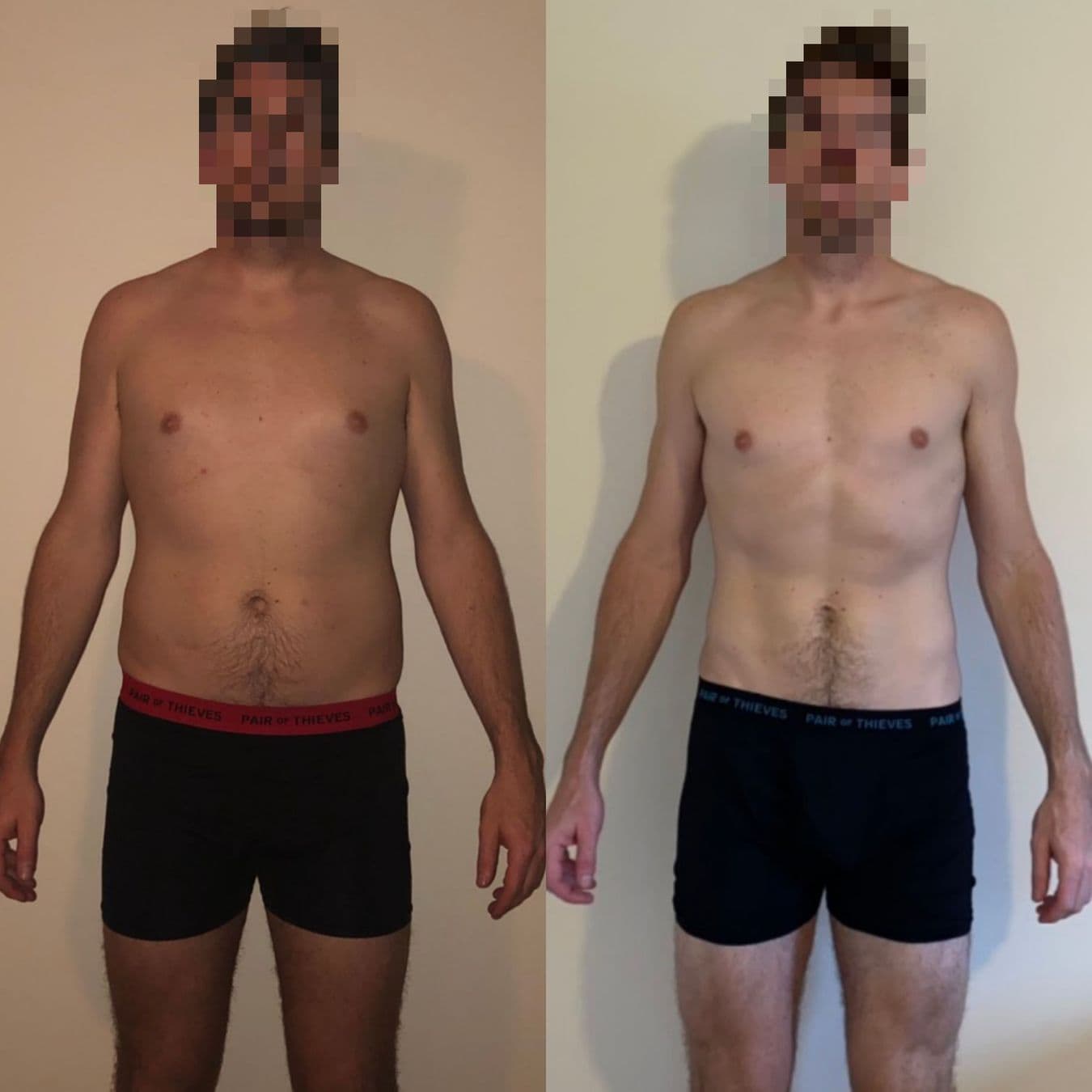 BRANDON
This was exactly the program that I needed. With not much knowledge of tracking my nutrition and knowing how it all fit in with working out, the MPP was the perfect structure for putting it all together. Aaron provided relevant and timely content throughout the program and was always available for personalized questions and support. I'm now a lot more confident in my nutrition day-to-day thanks to the principles I learned through the MPP!"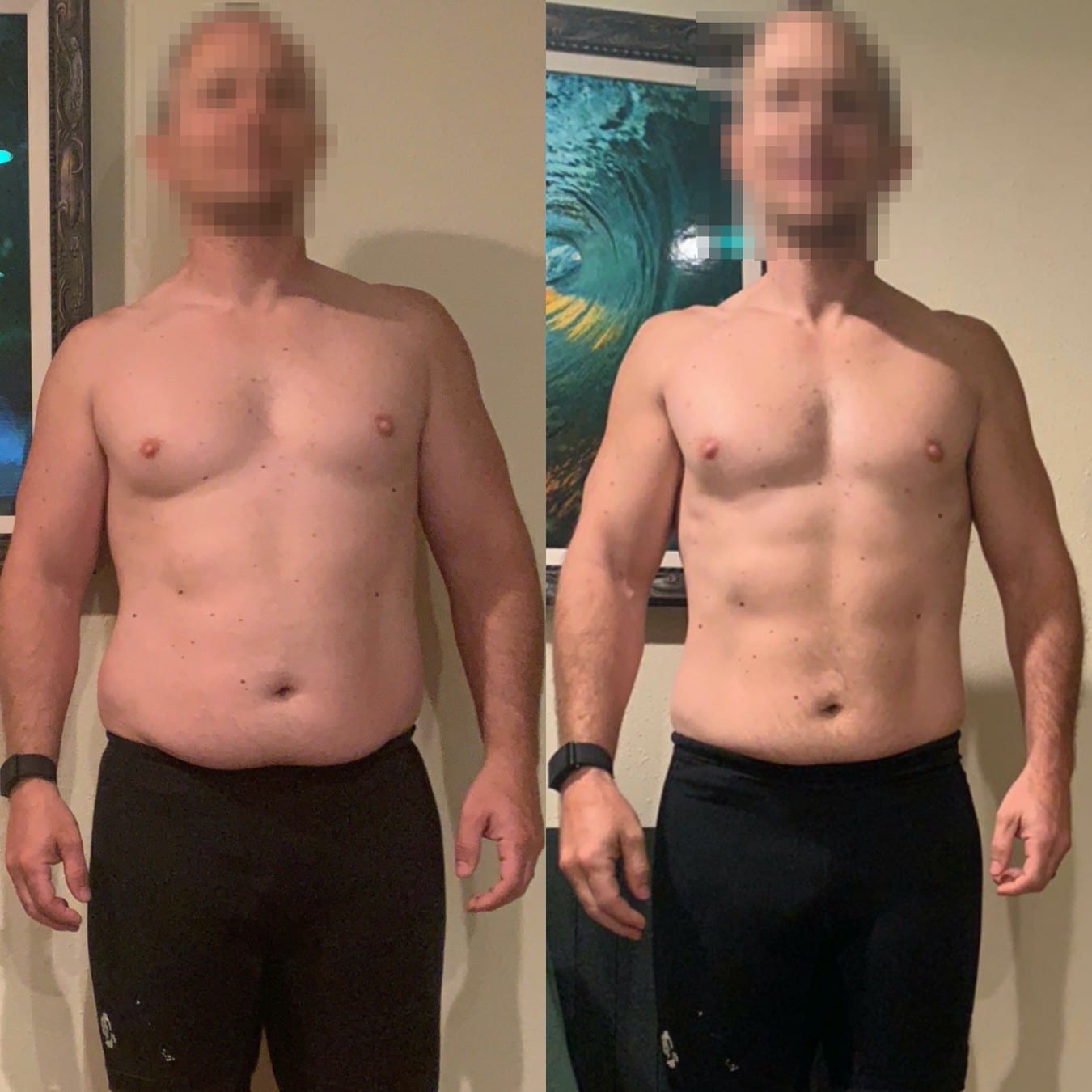 CHAD
"I came to the program knowing I had the commitment to make a change, but not knowing really how big a change I needed to make. MPP helped me to understand what my body actually required for maintenance, as well as how to effectively cut weight without being in a dark hole with nutrition. I was thankful for the education regarding nutrition I received in the process vs. blindly following along. I am thankful to have found this program when I knew I needed a change."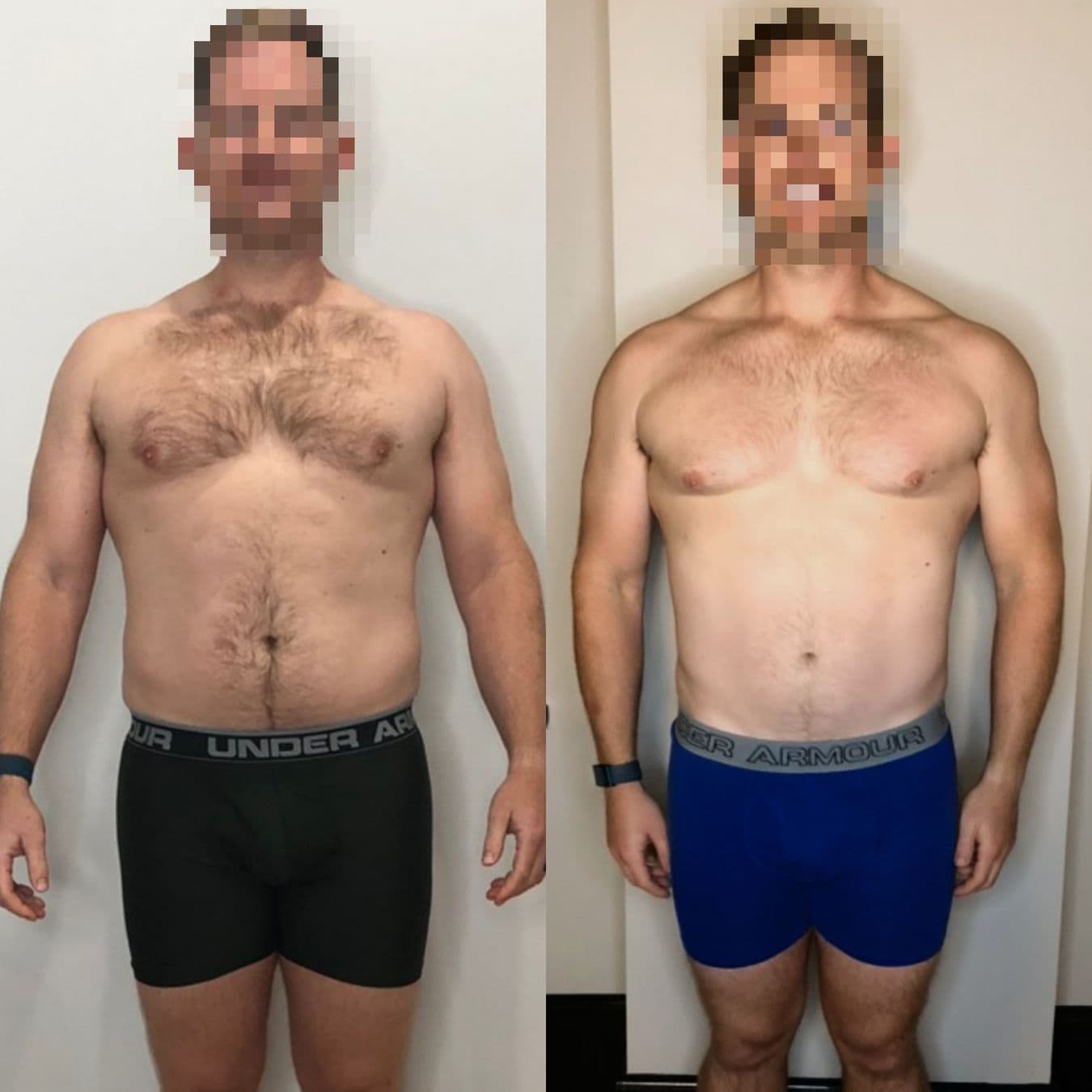 KIT
"Aaron truly strives to pull back the curtain on the known, unknown, and intangibles of nutrition. He is consistent with his message, is extremely engaged, and pushes quality information throughout. He keeps it simple and coaches the basics, laying a foundation of quality habits to carry you through a lifetime."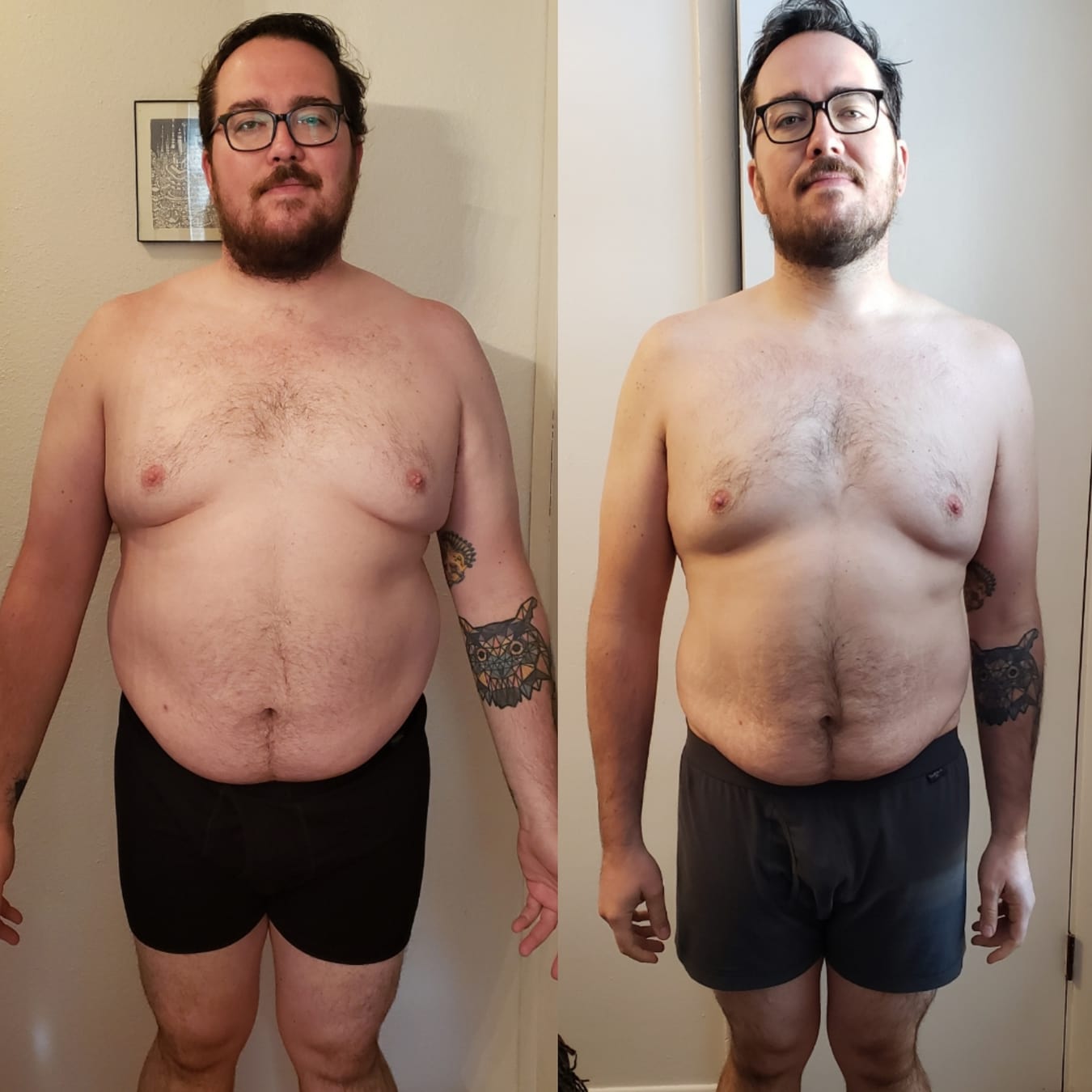 ROB
"I am so glad I signed up for the MPP. I had been going to the gym, getting some walks but still struggling to lose any weight. Even before the official 'diet phase' I started shedding some pounds, and the best part is I know why I started losing weight. I have the knowledge now to make the progress I've been after. Over the past 22 weeks, there has been a lot of information, and learning, and looking back, I can say that this is one of the best decisions I've made, and I'm looking forward to another round."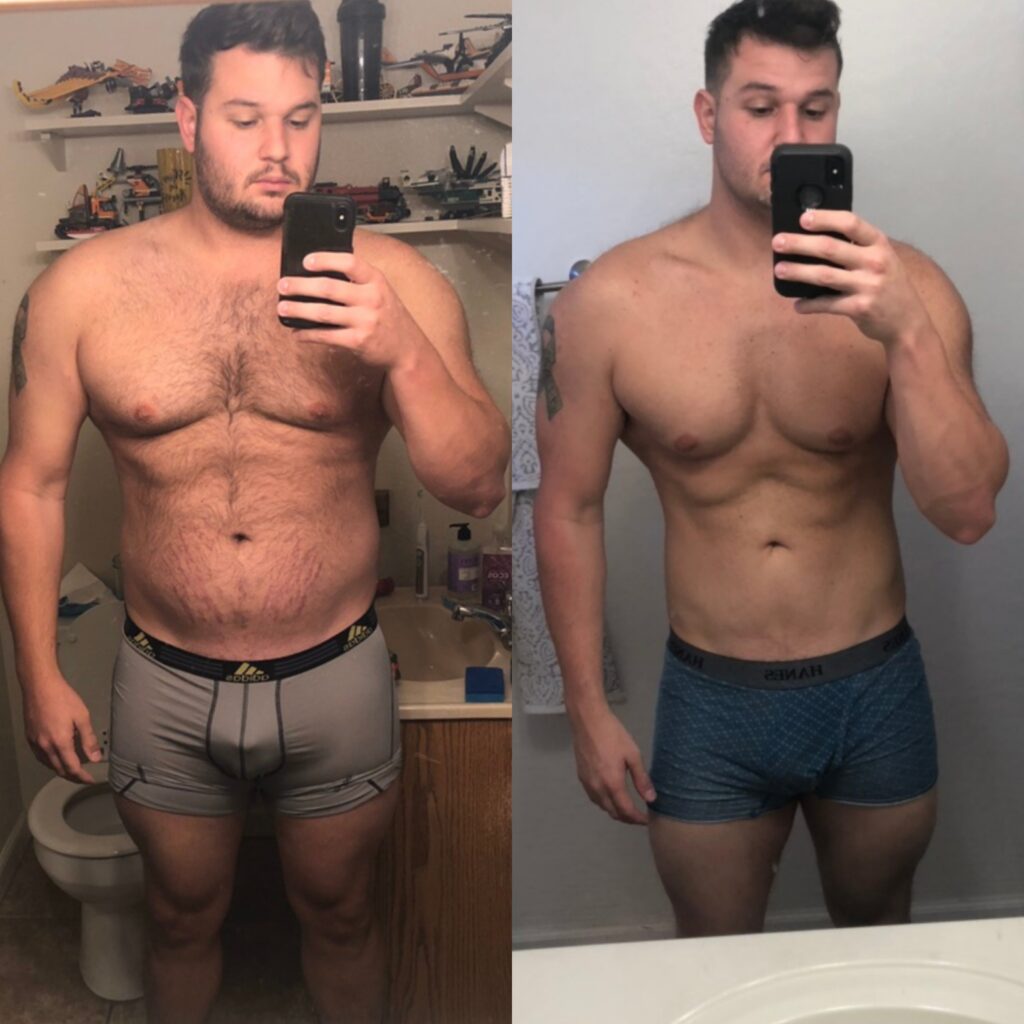 AUSTEN
"I dropped over 60 pounds with working with Aaron and I've never thought I would ever look like this again. I was so depressed and over weight and hated what I saw in the mirror. Aaron gave me the right tools, motivation, and steps to get me on the right path and it's been smooth sailing ever since. I'm the strongest, fastest, healthiest and most confident I've ever been. Thank you Aaron, so fucking much!"
STEVE
"Nutrition was always the hardest part of the puzzle for me because there's so much conflicting media and 'facts' it's hard to create a foundation to learn from or follow. Aaron's approach is one that has worked for me because he has a structure in places that makes tracking food, checking in, and asking questions something I could easily adapt into my routine. It's backed by science, experience, and results so all of the guesswork I always had trouble with was removed entirely."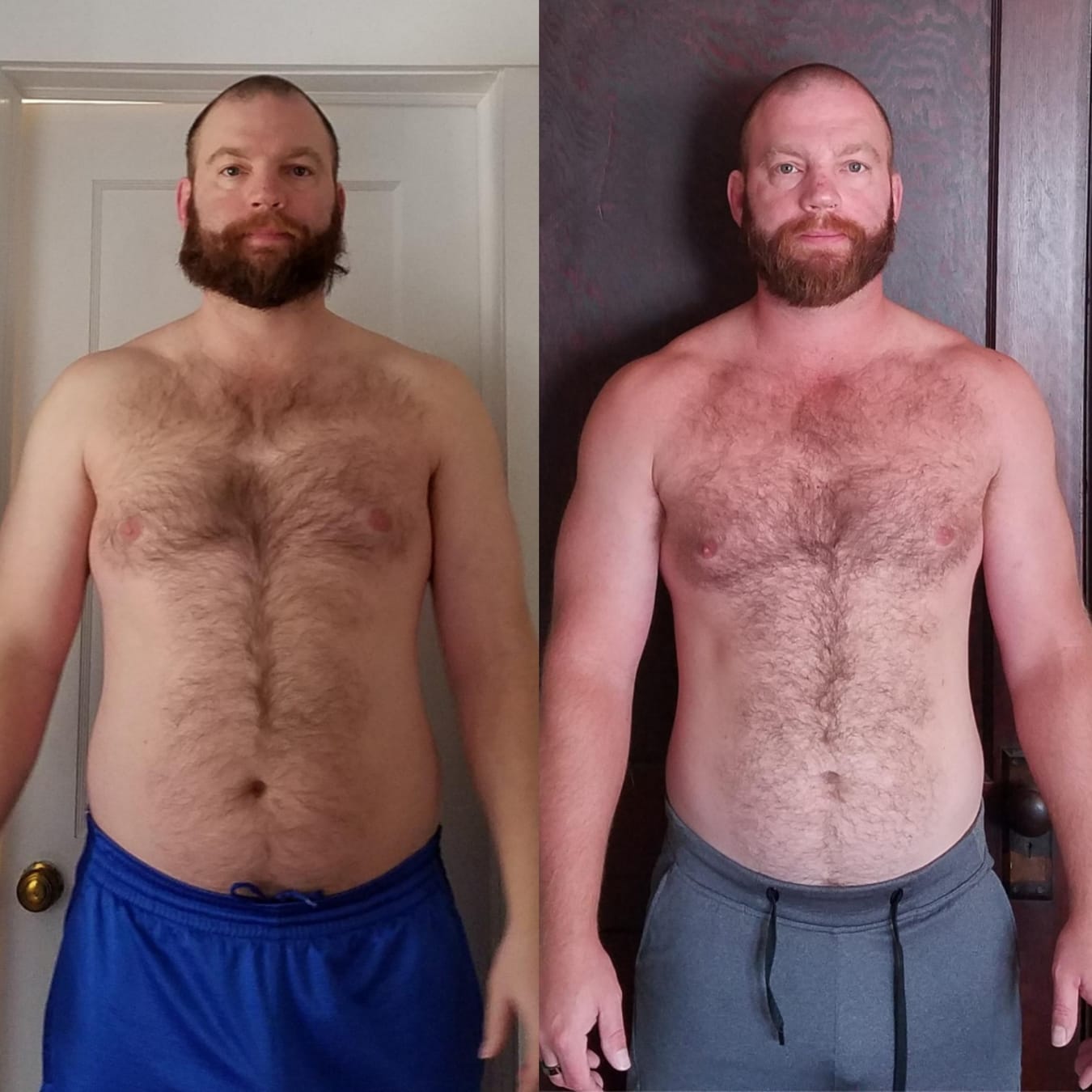 JOSH
"If you put on the #Quarantine15 pounds, let Aaron Straker take it off. You get an expert education, dedicated, personalized service, and the exact results you want!"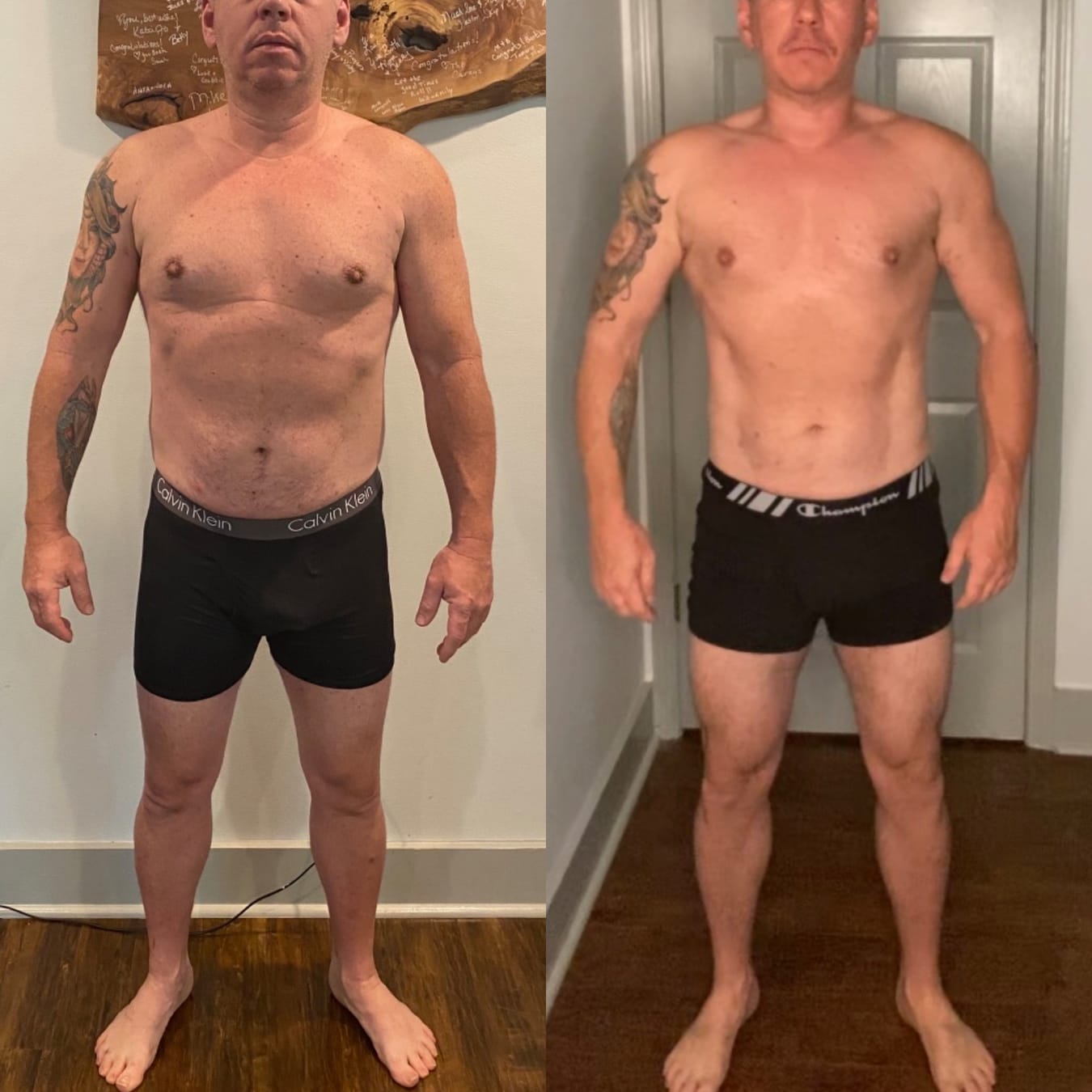 BUD
"I really can not say enough GREAT things about my experience with the MPP. Aaron has his system dialed in! I came into the program hoping for results and to farther my knowledge base and have been blown away with the amount I've learned. Aaron has a grasp of nutrition and fitness that is shocking and maybe borderline OCD. There's no question that stumps him and he seems to know the roadblocks you'll encounter before they arise. Seriously, If you're ready to take your body to the next level you need the MPP. Make NO MISTAKE, this IS NOT another fad diet. IT IS A LIFESTYLE CHANGE."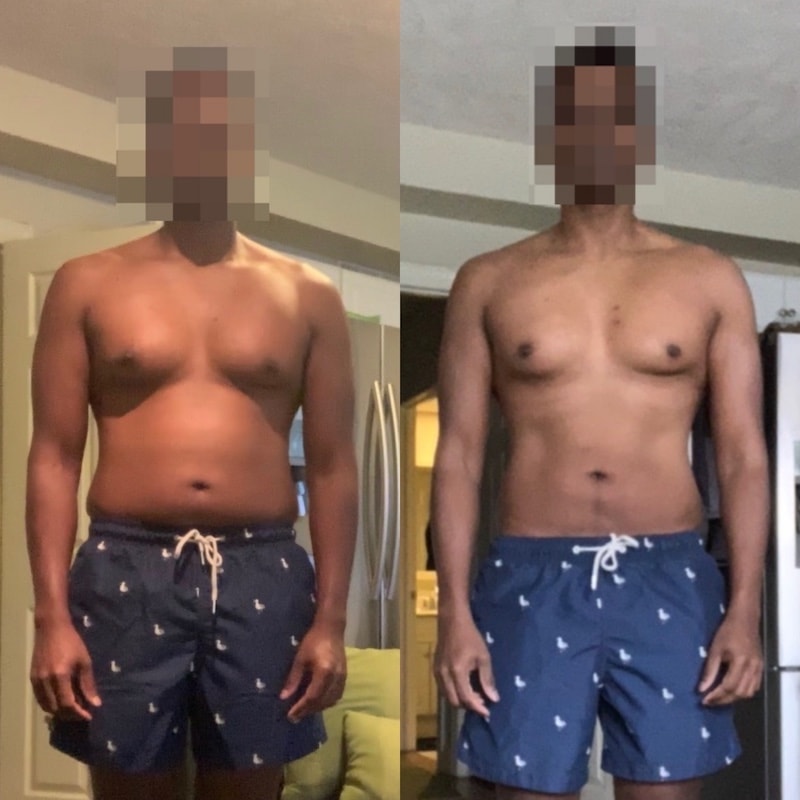 CHARLES
"For the first time in a long time I feel like I found a program where I'm not just thinking about my weight but focusing on getting in better shape and learning how to incorporate a healthy lifestyle beyond the program. Seeing results which Used to think were far fetched for someone like me who has been out of shape my whole childhood and adult life. I would totally recommend doing the program."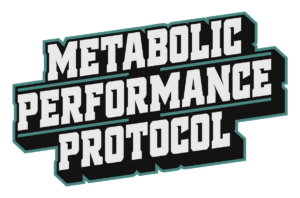 ONE TIME PAYMENT
$2800 USD
24 Weeks of Unparalleled Nutrition & Lifestyle Coaching

Weekly Individual Coaching Check-Ins

Weekly Semi-Private Live Coaching Sessions

2 Personal Bloodwork Video Reviews

Dedicated Hypertrophy Training Programming (Optional)

Required Kajabi Course to Reinforce Coaching Concepts

Unlimited Support Provided by Aaron
4 MONTHLY PAYMENTS
$770 USD
24 Weeks of Unparalleled Nutrition & Lifestyle Coaching

Weekly Individual Coaching Check-Ins

Weekly Semi-Private Live Coaching Sessions

2 Personal Bloodwork Video Reviews

Dedicated Hypertrophy Training Programming (Optional)

Required Kajabi Course to Reinforce Coaching Concepts

Unlimited Support Provided by Aaron
8 MONTHLY PAYMENTS
$405 USD
24 Weeks of Unparalleled Nutrition & Lifestyle Coaching

Weekly Individual Coaching Check-Ins

Weekly Semi-Private Live Coaching Sessions

2 Personal Bloodwork Video Reviews

Dedicated Hypertrophy Training Programming (Optional)

Required Kajabi Course to Reinforce Coaching Concepts

Unlimited Support Provided by Aaron
22 weeks. Approximately 5 ½ months depending on how the days of the months work out.
It is not, each week has specific directives and pace. This is not like a Teachable course where you can take 3 weeks off and then start up again. The education portion is tied directly to the nutrition coaching, training, check-ins and coaching calls. We all move at the same pace, so strap up and let's go!
This is a one man show my friend! Everything you get (videos, check-ins, coaching calls, messages, etc.) will be directly from me.
Yes! 22 weeks of strength + hypertrophy specific physique training are included with the cost of the Protocol. All delivered inside of our coaching application so you have all your metrics, weights, progress and biofeedback in one simple place.
The training purposefully does not include much hyper-specific gym equipment. That being said a more standard "globo" type gym will be most appropriate for hypertrophy style physique training.
Accepting that making changes to your current habits and lifestyle will very likely be required to reach your goals and to achieve the best results.
You do not, I don't believe meal plans work long-term and become a crutch rather than a tool. In place of a meal plan I "teach you how to fish" so you can put together meals on the fly and leverage planning so you won't ever need another meal plan again.
You can drink alcohol. That being said, I will present you some rather compelling evidence around why reducing your alcohol intake will make everything easier for you. You're free to do what you would like with that information. (9/10 clients drastically reduce their alcohol consumption when working with me by their own accord, and very few ever return to their previous levels of consumption afterwards.)
Yes, over 50 of them, whiteboard style videos where I am breaking down concepts and explaining how they apply directly to your physiology and goals, with details and takeaways you can begin implementing immediately.
Every single week we have live semi-private coaching calls specific to your coaching cohort.
All coaching calls are live streamed into our private Facebook community so you can catch the replays. Attending the calls live are highly recommended as the people who regularly attend calls achieve the most success.
Every single week. You submit a 1:1 check-in to me inside of our coaching application (iOS/Android & web) and you receive a response from me. Check-ins are mandatory.
If you are a male, have experience with lifting weights, have goals and are willing to commit to making lasting changes over the next 22 weeks this can be right for you. When you submit your application and we have our consultation call you and I will make sure if it is right for you.
No, there are no foods you must eat. That being said we're all adults and eating vegetables is something that we are going to want to do for best results.
No, there are no foods that are off limits. I preach using a flexible dieting approach. NOT IIFYM. For best results I suggest eating 85-90% whole, quality, nutrient-dense food sources and then you can spend your 10-15% on "flexible foods" that you enjoy in moderation.
Yes, this is required. Objectivity is one of the pillars of the Protocol and objectively monitoring your food intake not only teaches you a ton about various foods, but removes subjective variance.
This is the very first thing you get upon signing up. An incredibly thorough presentation from me specifically on the exact process and principles in tracking accurately and efficiently using Cronometer. The best food tracking application there is.
That's just a thought you have about it because you haven't spent enough time to be reasonably good or efficient at it yet. When you were a child first learning to tie your shoes it was this seemingly impossible task, now you don't even have to use any brain capacity to tie them in literally 5 seconds. It's the same principle.
STRAKER NUTRITION CO. ALL RIGHTS RESERVED